A Recipe For Haiku 
On a frosty Saturday morning, Galway wakes to the bustle of traffic and the food market vendors setting up shop.
cider in glass jars…
listening to men speaking in tongues
Tourists and residents parade the sidewalks while canoe-ers canoe the rapids of Galway's canal.
river run,
down-stream
the paddle of blue and orange
By 11:30 am street musicians of all ages have laid claim to either a storefront or a corner. The sound of guitars plucking, violins jigging, hand-clapping, heel-stomping, filling the air with the gaiety of dance.
singer
in holey jeans –
the chill evaporates
We head towards St. Nicholas Church and decide on an early lunch. Reaching Elington Street we see Tomodachi, which means friends in Japanese. Hard-core sushi eaters, Srajan and I don't mind the climb up three flights of stairs. Pushing open the glass door we enter sushi world.
hopeful –
beneath red lanterns
hunger for tuna and rice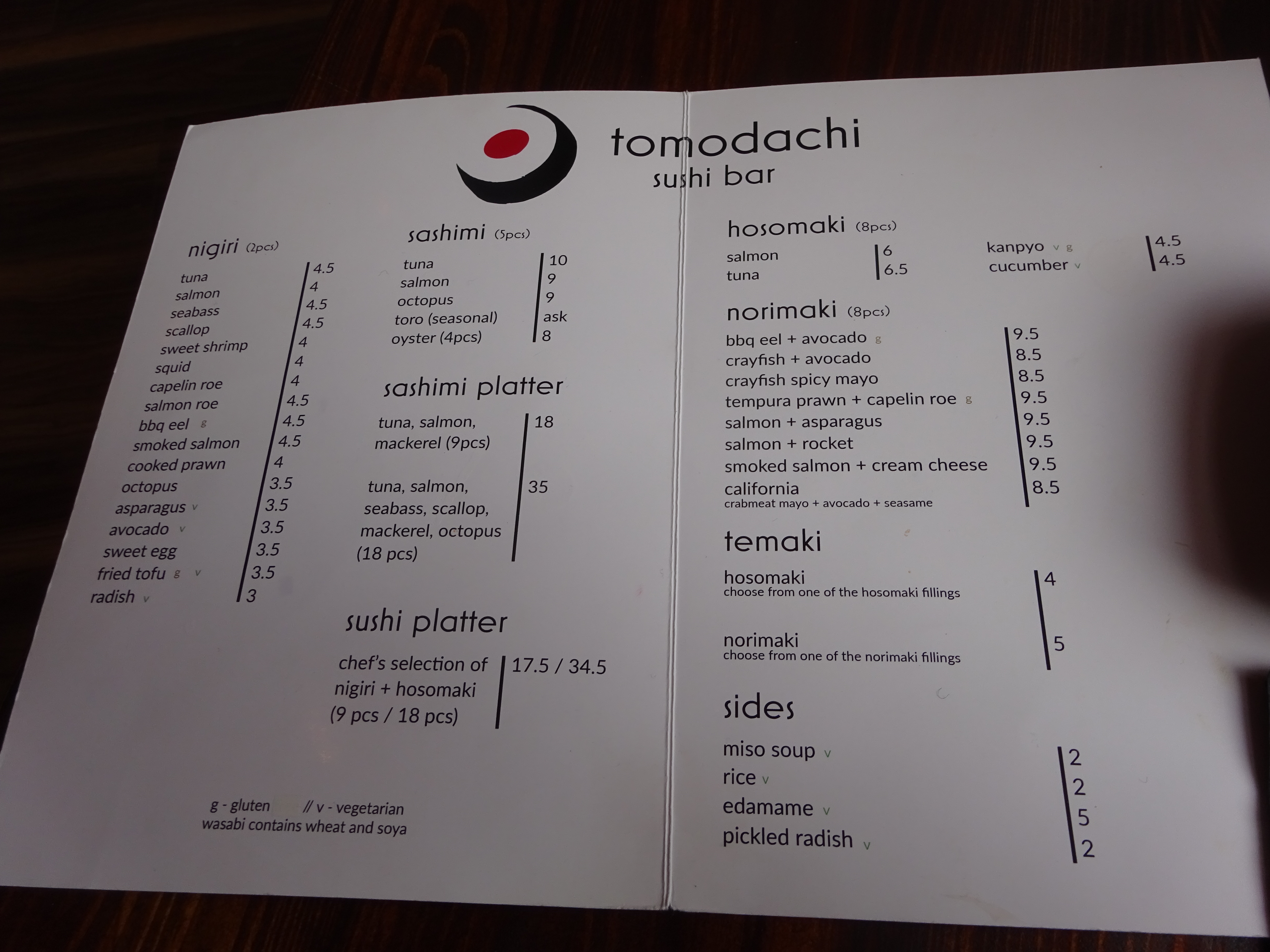 My husband orders three kinds of sushi. I decide on the tempura vegetables with rice. We both have miso soup, and a pot of tea compliments the meal.
genmaicha tea
cools in a cup
meant for him
Lunch is beautifully presented yet the flavour disappointing, or to be exact the lack thereof.
thin sliced yam –
not even rice fills the stomach
We might not have enjoyed our lunch, but when we got home I whipped up a batch of Chocolate Sablés and brewed cups of Genmaicha tea for two.
a sky of Choughs –
getting nowhere
two settle on a wire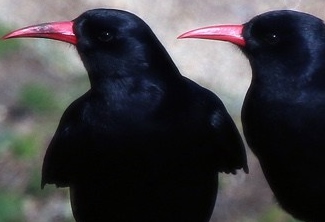 To maintain the roasted brown rice flavour unique to this green tea blend, here is my recipe for the preparation and the serving of Genmaicha, a brown rice, green tea from Japan: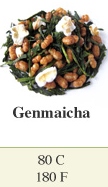 Boil water to 80°C
Use a porcelain or cast iron teapot
Fill ¼ of the pot with boiling water
Place a teaspoonful of Genmaicha leaves in a tea ball
Infuse 4 minutes then remove
Pour enough fresh boiled water to fill the pot
To appreciate the tea's colour, serve in glass cups or mugs
Genmaicha tea goes great with anything chocolate. Try these treats and taste what I mean:
Bittersweet Chocolate Sablés Cookies (read before making)
Preheat oven 180°C
Ingredients: Serves 4
250 grams flour Type 55 (sifted)
100 grams almond powder
     2 tablespoons of powdered bittersweet cacao
     pinch of sea salt
120 grams unsalted butter (room temperature)
130 grams of caster sugar
 1 egg (gently beaten before adding)
To make the cookie dough:
In a bowl add butter and sugar, blend until incorporated.
In a separate mixing bowl sift flour, add almond powder, powder of bittersweet cacao, pinch of salt and mix dry ingredients together.
Crack an egg into a clean cup and gently beat with a fork.
Add the beaten egg to the butter and sugar mixture and gently stir.
Divide dry ingredients in 3 portions then add one portion at a time to butter/sugar/egg mixture, and incorporate using a spatula.
Remove mixture from the bowl, use your hands to incorporate ingredients further, and roll dough into a sausage shape.
Seal dough in plastic wrap and refrigerate for 30 minutes.
Remove dough from refrigerator, unwrap and place a second sheet of plastic wrap over the dough (prevents rolling pin from sticking).
Using the rolling pin flatten the dough to desired thickness.
Remove plastic wrap and press cookie cutter into dough and form cookies.
Cover a baking tray with wax paper, lay cookies down leaving space between each one.
Bake at 180°C for 35 minutes.
Remove from oven; allow cookies to cool before eating.
Set the Sablés on a dish accompanied by a cup of Genmaicha tea.
evening rain,
by the fire
my heart grows fonder